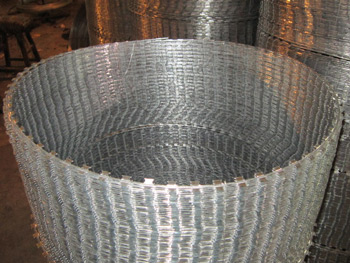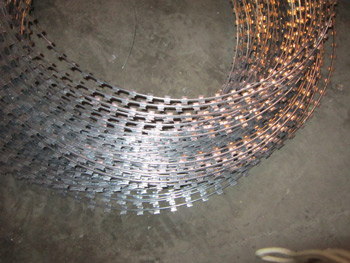 1Material:
Hot dip galvanized plate + hot dip galvanized steel wire
2 Features of Welded Razor Barbed Wire Fence:
Compact and rational structure, high safety factor, for the protection of prison and key project.
3 Package:
Plastic film inside, outside weaving bag/ hessian bag. Or according to per customers' request.
Reference number

Blade style

Thickness

(mm)

Wire Dia.

(mm)

Barb length

(mm)

Barb width

(mm)

Barb

spacing

(mm)

BTO-10

0.5±0.05

2.5±0.1

10±1

13±1

26±1

BTO-12

0.5±0.05

2.5±0.1

12±1

15±1

26±1

BTO-18

0.5±0.05

2.5±0.1

18±1

15±1

33±1

BTO-22

0.5±0.05

2.5±0.1

22±1

15±1

34±1

BTO-28

0.5±0.05

2.5

28±1

15

45±1

BTO-30

0.5±0.05

2.5

30±1

18

45±1

CBT-60

0.6±0.05

2.5±0.1

60±2

32±1

100±2

CBT-65

0.6±0.05

2.5±0.1

65±2

21±1

100±2
| | | | | |
| --- | --- | --- | --- | --- |
| Outside diameter | No. of loops | Standard length per roll | Type | Note |
| 450mm | 33 | 7-8m | CBT-65 | Single coil |
| 500mm | 56 | 12-13m | CBT-65 | Single coil |
| 700mm | 56 | 13-14m | CBT-65 | Single coil |
| 960mm | 56 | 14-15m | CBT-65 | Single coil |
| 450mm | 56 | 8-10m(3clips) | BTO-10.12.18.22.28.30 | Cross type |
| 500mm | 56 | 9-11m(3clips) | BTO-10.12.18.22.28.30 | Cross type |
| 600mm | 56 | 10-11m(3clips) | BTO-10.12.18.22.28.30 | Cross type |
| 600mm | 56 | 8-10m(5clips) | BTO-10.12.18.22.28.30 | Cross type |
| 700mm | 56 | 10-12m(5clips) | BTO-10.12.18.22.28.30 | Cross type |
| 800mm | 56 | 11-13m(5clips) | BTO-10.12.18.22.28.30 | Cross type |
| 900mm | 56 | 13-15m(5clips) | BTO-10.12.18.22.28.30 | Cross type |
| 960mm | 56 | 13-15m(5clips) | BTO-10.12.18.22.28.30 | Cross type |
| 980mm | 56 | 13-16m(5clips) | BTO-10.12.18.22.28.30 | Cross type |