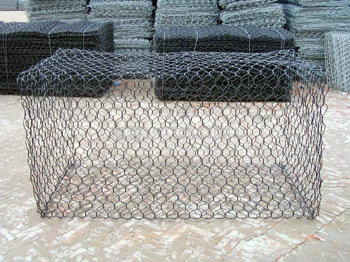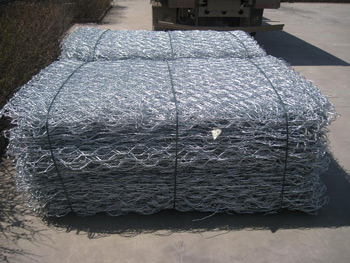 Material: Galvanized iron wire,PVC coated wire,Stainless steel wire.
Surface treatment: Electro galvanized,10g/m2,Hot dipped galvanized 300g/m2 ,PVC coated
Tensile Strength:350-700N/mm2
Weaving : Straight twist , reverse twist, double twist, the first series after plating , the first series after plating.
Features : Solid structure , flat surface, good corrosion and oxidation.
Application:
(1)Control and guide of water or flood
(2)Flood bank or guiding bank
(3)Preventing of rock breaking
(4)Water and soil protection
(5)Bridge protection
(6)Strengthening structure of soil
(7)Protection engineering of seaside area.
Packing: Flat bundle, binding with steel strape or strands
Gabion mesh

Mesh Opening(mm)

Wire Diameter(mm)

PVC Wire Inside/outside(mm)

Roll Width(m)

60X80

2.0-2.8

2.0/3.0-2.5/3.5

4.3

80X100

2.0-3.2

2.0/3.0-2.8/3.8

4.3

80X120

2.0-3.2

2.0/3.0-2.8/3.8

4.3

100X120

2.0-3.4

2.0/3.0-2.8/3.8

4.3

100X150

2.0-3.4

2.0/3.0-2.8/3.8

4.3

120X150

2.0-4.0

2.0/3.0-3.0/4.0

4.3

Others we can do as your requirement